Squareface
A 3rd person action-RPG that puts you in full control of a miniature paper figurine set to solve the mystery of its existence. The game features complex character customization and weapons arsenal, base building, driving, accessory and ally management.
1 in stock
Description


What?
Discover the power of paper and epic adventure as you fight, explore, and solve challenges in Squareface. In a looming, massive universe full of big challenges and mysterious enemies, it's up to your Squareface cardboard and paper character to prove himself and come out on top. This 3rd person role playing game puts you in full control of character customization, base building, accessory and ally management to fully explore and enjoy more than 40 original story missions.
Who?
Dive right into the stunning graphics and mesmerizing adventure story by customizing your character to match your unique style. Inspired by the childhood practice of crafting paper and cardboard toys, you can enjoy nearly unlimited flexibility in the graphic version, too! Set the gender, fashion the coolest outfit, pick out your backpack, and stock up on weapons to get you started in the game. Once you're ready, your Squareface character is launched into the dangerous world with a little bit of cash, an intriguing story, and a few weapons for defense.
How?
As the action unfolds and the adventures direct your journey, your character will pick up a variety of items, tools, and friends to help you win the war. Grenades, mines, guns, canons, and a variety of other artillery line your paper pockets to blast away your enemies and fight through challenges while you reach important check points. You will discover that there are nearly as many weapons to discover and use as there are enemies! Choose your favorite way to shoot, blast, and explode your way to victory.
FEATURES
– 40+ original story levels filled with humor
– survival, race and experimental extra levels
– large environments
– dozens of character customization options
– base building and defense
– allies and pets management
– complex and intuitive weapons mechanics
– vehicle and garage management
– unique skills system
– original soundtracks
– craft trophy-like paper toys exactly as your favorite characters (Not available on the Mac version)


In a universe that makes everything look and feel huge, comes a paper character set to prove itself. Lifestyle being very important, the persona can be very customizable. The way your character looks gives you two main features: pocket size for all the cash and, of course, coolness as a skill. What your character does is entirely up to your imagination.



Small crafted or living creatures can be the user's companions in the paper adventure in which they will never leave the character's side. They have some characteristics: pocket size, damage and speed. They can receive an attack order and will carry the extra money the user will be making. The pets can find shelter in the Barracks.

Paper and cardboard can be surprising and they have never offered so much choice until now via the customization options. The player's character is adjustable to any preference. It takes you back to your early childhood. One can choose the gender, the weapons, the clothes for every part of its body, most of them independent of the previous gender selection, and various backpacks. One can dress or equip to be able to, technically, go to any world event, festival or war. All the costumes will be available as unlocks, giving the user the extra choice to actually print their own blueprints and craft them manually. The real life models can then be used as tokens for the Squareface: Board Game.


Make an everlasting souvenir aka trophy-like paper toy exactly as your favourite character. Among the many costumes the game offers, you can choose to print one or more, that are already available in-game. Bring your character to life and it will be with you for the rest of your life, or until you drop it in the water. Here's an example blueprint to play with: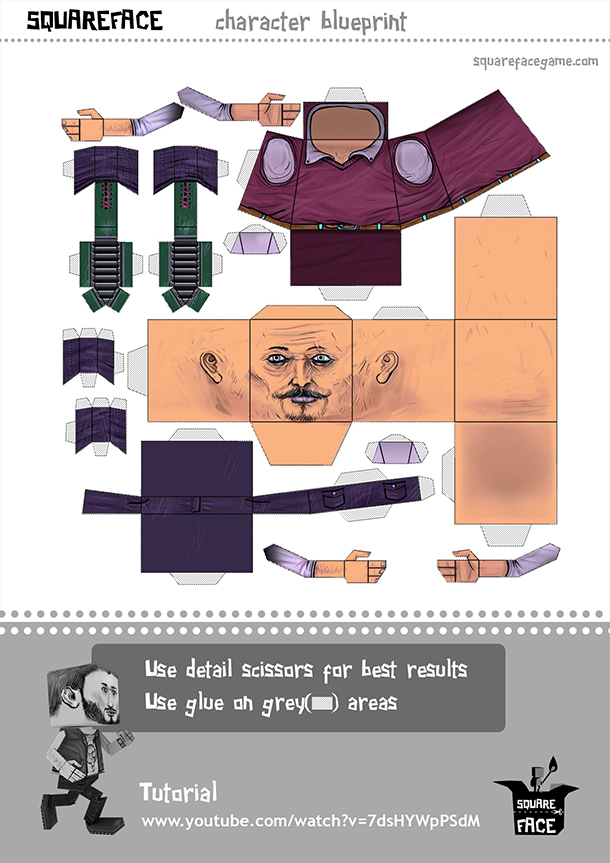 The user can choose from melee, primary and secondary weapons, lots of grenades and mines. It's simply fun to choose the method one's enemies die.



Build your own base of operations by learning how to craft paper structures that will offer you protection, expanded carrying capacity, troops recruiting, vehicles management and more.


Vehicles provide transportation and safety. Depending on the garage the user has, he or she can significantly upgrade the car, truck, etc. One can, of course, race.
Related products